Weather Conditions update
Last Friday and Saturday, like many other parts of the British Isles, the Isle of Man experienced heavy snowfalls. Some parts are still cut off without electricity. Of the parts where the Festival takes place, Peel was the worst affected and there were snowfalls on the hill. The amount of snow in around Port Erin and Douglas Promenade was a lot less and these areas are pretty well clear.
Looking ahead to the weekend, the general weather forecast is that it will continue to be cold over the next few days. At the moment the daytime temperature is around 3-4 degress celcius but there is a windchill making it feel much colder. The thing to emphasise is to bring plenty of warm clothing along with you. Weather forecast for Isle of Man
Festival Sponsorship announced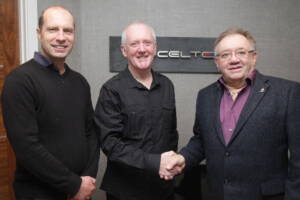 Celton Manx is pleased to announce its sponsorship of the Easter Festival of Running 2013. Festival Organising Committee members Chris Quine (left) and Dave Ronan (centre) are pictured with Bill Mummery, Executive Director of Celton Manx. Full Press Release here
Online entry facility launched for 2013
The 2013 Festival will be the first time that an online entry facility has been available. This is through our partners at Manxtreme. For full details and online entry click here
Easter Festival Hotel Deal
Manx Harriers club member Dave Mackey of the Ascot Hotel, Douglas has kindly offered a special rate for Festival competitors and travelling companions – £45 for a single room and £59 for a double/twin room per night including info@ascothotel.im and quote EASTER FESTIVAL.
Easter Flights
For anyone planning to fly over for the Festival, Flybe flights are now on sale over the Easter period. Flights available from Liverpool, Manchester, Gatwick, Luton, Birmingham, Edinburgh and Glasgow – go towww.flybe.com for more
Easter Festival Promotional Fares
We are delighted to announce that Manx2.com – www.manx2.com – are offering a limited number of promotional fares for Festival competitors and their travelling companions on a range of flights available from Blackpool, Belfast, Newcastle, Leeds and Gloucester. Go to www.manx2.com and enter the promotion code RUN to receive your special Festival rate.