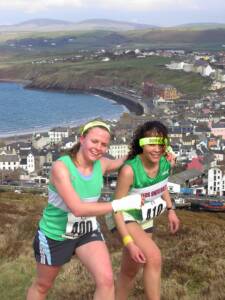 On Saturday afternoon, action moves to Peel a fishing village on the west of the island, about 11 miles from Douglas. The race starts and finishes near the quayside at the House of Manannan with start times of 14.15hrs (men) and 15.15hrs (women).
The men compete over a four mile course and the women over a three mile route. The races are held separately. With the exception of the first and last half mile the course is on grass. There are two main climbs on the route for the men and one for the women with a number of short sharp climbs as well. The descent is less steep. Therefore, the climb suits the fell/hill runners but they have less of an edge over the road and track runners on the downhill.
Although not actually part of the Festival many choose to run back to Douglas – a distance of around 11 miles taking in a few of the local pubs on route!
In consultation with the local police, we ask that anyone doing this ensures that they wear bright clothing, have returned to Douglas before dark, and considers using the Heritage Trail (former railway line) rather than the main road/pavement.
Transport
Coach travel to and from Douglas (the island's capital) is provided free of charge as part of our full festival entry package, taking the stress out of arranging travel for your group. If you are arranging a group trip, get in touch with the team via email for further details – easterfestival@manx.net
Changing Facilities
Please arrive ready to run. There are no official changing facilities, although there are toilets readily available at the start/finish area.
Slideshow of Peel Hill Race course – start to finish (photos by Dave Griffiths)
Race proudly sponsored by: